The best way to add
dimension

to blonde hair

The beauty of hair is that it's changeable. You can play with styles and colours until you find something you love. And when you get bored with that, you start again and reinvent your look. If you've been blonde for a while, you may be considering adding some dimension to your colour. You love your blonde hair, but it's time to switch it up slightly. And as your Redland Bay hairdresser, we love that! But we also understand that making blonde hair colour changes can make you nervous. What if it doesn't work? What if it doesn't suit you? What if you hate it? Let us assure you that adding dimension and colour to your blonde hair is very on-trend. We've helped numerous clients achieve their desired look using reverse balayage, colour melting, lowlights or highlights and foils. 
5 key factors to consider when adding dimension to blonde hair
As a trusted hairdresser for the Redlands Coast area, here are our top 5 hints for adding colour and dimension to blonde hair.
1.Consult with your hairdresser
You've undoubtedly done some research into the blonde hairstyle you want. You've either seen styles on your social media or Googled the blonde hair trends. That's a brilliant way to start!
Show those photos to your hairdresser when you visit. They'll be able to let you know how (and if) it's achievable for your hair.
Your hairdresser will check the health of your hair, the depth and tone of colour you already have, and discuss ways they can help you achieve your desired look.
2.Prepare your hair for the blonde colouring
To get the best from your new blonde hairstyle, it's essential to prepare your hair before visiting your hairdresser. Avoid silicone-based shampoos and conditioners that leave a film on your hair, making colouring your hair harder.
We highly recommend using quality salon products such as the Olaplex range, which will help get your hair in excellent condition for your colour change. The condition of your hair helps colour longevity and prevents colour from processing unevenly.
3.Check this technique with your hairdresser
If you've decided to add lowlights to achieve depth in your blonde hair, ask your stylist to use a semi-permanent colour. You'll find that your hairdresser should already know this, but it's worth double-checking.
Using a semi-permanent colour as a lowlight prevents them from fading out to a warm brassy tone which you'll see if a permanent colour is used.
4.Colour locking treatment
Once you've achieved your desired blonde hair look, you want to keep it looking fresh as long as possible.
Using a colour locking treatment will prevent colour fade. We suggest a specialised blonde range that will help keep your new blonde hair fresh and won't change the darker tones in your hair. Your stylist will be able to recommend one to use.
5.Use heat protectant
You'll walk out of the salon with beautiful hair, having it coloured, dried, and often straightened or curled. So, it's natural that you'll want to do the same when you're going out or just because you want to look amazing for the day!
It's highly recommended that you use a heat protectant when using hot hair tools (straighteners, curlers etc.). Think of it like sunscreen! You want to prevent your hair from burning, so you apply a heat protectant (every time!). Without this, your colour will fade quickly, and you'll find the health of your hair suffers too.
If you're looking for new hot styling tools that are the safest for your blonde hair, salon-quality products like the GHD hot tools are designed to keep your hair in the best condition.
What are the blonde hair colouring techniques?
Reverse balayage
You may have used balayage to lighten your hair as you become more blonde. Reverse balayage is the opposite. It's used to add lowlights or darker strands to add some depth to the roots of your blonde hair. It's a brilliant way to achieve a natural look and add warmth and depth to blonde hair.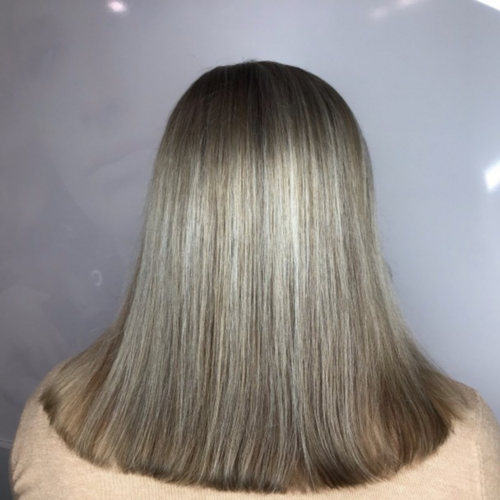 Lowlights or highlights Highlights are used when you want to achieve a lighter hair colour than your base colour. But, to add depth to blonde hair, you need to use lowlights. Lowlights is a colouring technique that adds depth and contrast by using a colour darker than your base colour. Women with fine blonde hair love this technique as it helps their hair to appear thicker with more body and volume. 
Colour melting
Colour melting is a technique to blend highlights or balayage into your root colour as your roots are growing out. You'll end up with a natural, lived-in look with a gradient of colour falling down your hair. Gentle on your hair, toners are used to achieve the look rather than lightening your hair with dye. 
Foils
Foils are the colouring technique used to lighten your hair without a whole head bleach session. It's gentler for your hair, and you can create a multi-tonal look for added depth to your blonde hair. Your hairdresser will be able to guide you on how many foils you need (1/4, ½ or full head) to achieve the look you desire. 
Looking for a

blonde expert

hairdresser
in the Redland Bay area?
Kim and her team of stylists are on hand to help you achieve your blonde hair look using a range of specialist techniques – balayage, foils, colour melts, reverse balayage, highlights and lowlights. Book your hair appointment with our hair experts today, and you're guaranteed to walk away feeling like a new woman with the blonde hair you've been dreaming about.